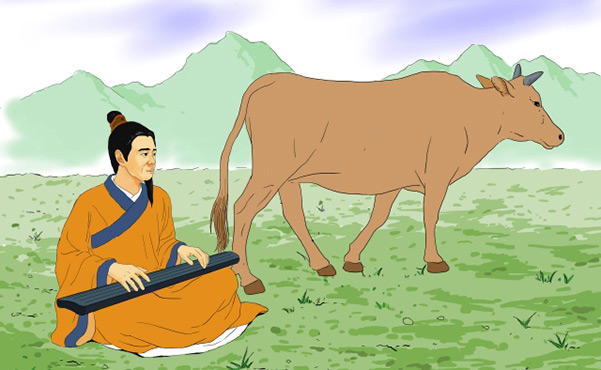 Moo-sically Challenged?
As a dancer, I love attending dress rehearsals for the Symphony Orchestra tour.
Just imagine—all of Shen Yun's dancers and artistic crew cozy in the plushy blue seats of our music hall, enjoying our orchestra perform favorite pieces from the previous season's tour. After a long day of intense training and rehearsing for next season's dance production, this rare treat—no sweat, no pressure—is total pleasure.
As the concert begins, I'm on the edge of my seat. The urge to jig along is impossible (and needless) to suppress. I'm enjoying the maestro's fun, energetic conducting, seeking out musician friends I don't often see, and smiling to myself at the impressive bulwark of double basses ever so engrossed in strumming their pizzicatos—which to my surprise are rich, warm, and amazingly buoyant.
In the third piece, a flute and clarinet duet trills out opening notes of Poets of the Orchid Pavilion and a familiar scene engulfs me:
Breathless after an exhilarating spin to the Tang Dynasty, I make my way from the dazzling spotlights to the dim of a blue gel-lit backstage. Some strategic (yet by now subconscious) maneuvering helps me navigate around still-winded friends and the dozens of costumes and accessories we've raced in and out of during the first three quick-changes of the night.
My fingers are working to unfasten a Tang-styled hairpiece—the beginning of another (less hasty) transformation—because soon we'll be zipping a few millennia further to take part in a pre-dynastic fable. Meanwhile, my eyes are scanning for a lotus fairy gown and a Han-court robe, waiting patiently to be collected and re-hung with care. In the distance, a calm, mystical melody rises out of the orchestra pit accented by the brisk powerful sounds of the scholar's fans as dancers swoosh them open and snap them shut.
A few songs into the second half, delighted gasps emanate all around me as another favorite begins: The Mystical Udumbara. This time, the girls break out in action. All across the balcony, lithe arms pop up and start swaying in sync:
Right-left-right, bud together, and then open with a bloom. Then tra-la-laaaaaaaaa! The conductor swooshes down the final fermata and every girl (within her plushy blue seat) strikes a final floret pose.
If strangers had suddenly walked in on this scene, they might have thought we were doing "the wave" at a classical concert. Yet we're having more fun than they could even imagine, reliving cherished memories as elusive flower fairies from the previous season's performance.
The Symphony Tour
The annual autumnal Shen Yun Symphony Orchestra tour is our musicians' chance to take center stage. They give their concert shoes an extra polish and take their turn under the limelight. And with all the touring companies' orchestras working together, the effect is out of this world.
Every year before the musicians hit the road, we dancers are their first audience. Think of it as a private premiere as we get to take an evening off and "bravo!" as loudly as we want to.
Maybe not every classical Chinese dancer knows the F♯ harmonic minor scale, but we know a spectacular sound when we hear it.
After all, we are not cows…
Sorry, did I just get some raised eyebrows? Gather around for this next idiom story, and then you'll know what I mean.
Incomprehensible
Once upon a time, during the Warring States Period (475-221 B.C.E), a musician named Gong Mingyi was famous for his mesmerizing playing on the seven-stringed zither. However, there was one listener he couldn't impress...
One gorgeous morning, Gong woke up in a rather romantic mood. As soon as he stepped out into the sunshine, he decided he would take his zither into the hills.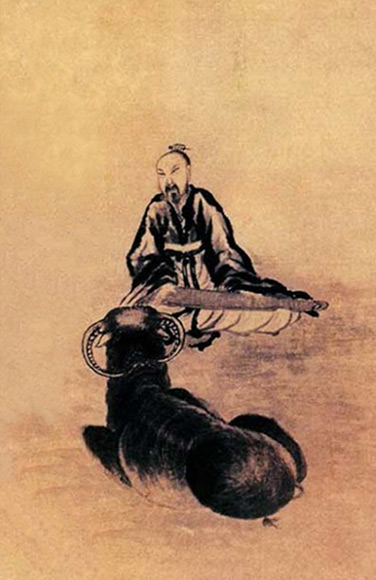 There, among the wild flowers and fresh breeze, Gong spied a lucky audience of one—an unobtrusive cow out to graze. He resolved to treat it to a private show.
Gong sat down and played a most emotive song. As the final note faded out, he looked up with a satisfied sigh… only to see the cow showing no reaction whatsoever. Strange, Gong thought, and so he tried another song. And another. Nothing. The cow chewed on.
Totally vexed, Gong started banging and plunking about, making quite a commotion. The cow finally became alert. But much to Gong's consternation, the bovine had only quit its apathetic cud-chewing to look about for the throng of buzzards it had heard.
This is the backstory behind the Chinese idiom "playing music to a cow" (對牛彈琴 duì niú tán qín), which, like the expression "casting pearls before swine", means presenting something valuable to the unappreciative.
Now you know why I say dancers are not cows.
Meanwhile, half way around the world our orchestra has already launched its Asia tour, and it's going to be marvelous. I can't wait till you hear them too!

September 15, 2016